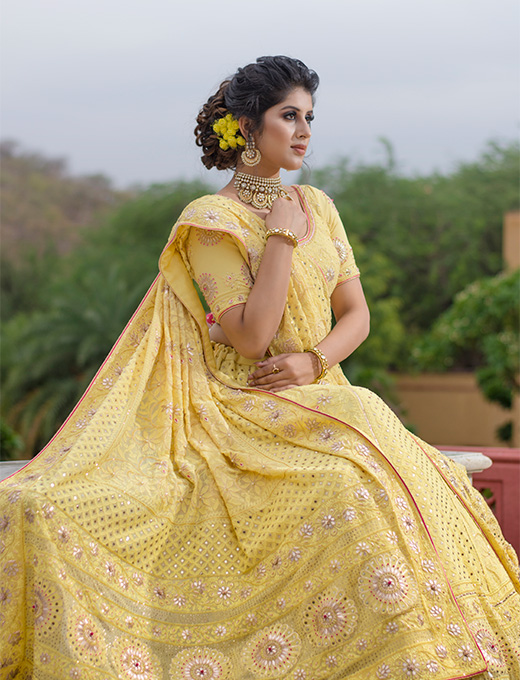 The Brand
"A time-honoured ode to the Lucknowi sartorial elegance."
'Aagaman Couture' is a love letter drafted with passion for Old Lucknow by the acclaimed fashion couturier, Neha Asthana Meena.
The Jaipur-based couture unit was launched in 2018 and has since then made its way into the hearts of the fashion enthusiasts residing there. From gorgeous lehengas, sarees, simple salwar kameez and western outfits - this couture collection showcases all your favourite traditional & modern ensembles.
Brand Story
The brand seeks inspiration from one of the oldest embroidery techniques in India - Chikankari. This 400 years old embroidery can be traced back to the pomp and splendour of Mughal fashion. The designer was fascinated by the fact that it had still managed to stand against the test of times as artisans passed down this refined skills from one generation to another.
Since the majority of Chikankari artisans are women, Neha works diligently to empower and equip them with the skills and agency to walk away from patriarchal bonds, so that they may use their skills and talent to obtain financial security. Neha hopes to use her store's success as a stepping stone for these women.
"Aagaman's ode to Lucknowi sartorial elegance"
Neha is working towards reviving this century-old trend in the current fashion landscape by blending the intricate chikankari with beautiful bold colours. Her fashionable spin to the classic embroidery has garnered lots of attention in Jaipur. Stepping into her store takes you back into an era that wasn't about frills and ruffles but more focused on the finesse of its needlecraft.
Her brand focuses on becoming inclusive of ethnic and modern designs along with techniques found across India. The brand is already seen using exquisite handwork from other regions and embellishing it over the elegant fabrics sourced from Old Lucknow. In this way, 'Aagaman Couture' proves to be a testament to India's rich cultural and ethnic diversity.
Our Vision
The brand is currently in the talks of opening flagship stores in other regions of India. It's also inching closer to Neha's ultimate dream - "taking Chikankari from the busy streets of Lucknow with her fashionable spin to the glitz and glamour of International Fashion Week."
Our Mission
"Our mission is to empower women to feel like they are the best version of themselves. It's not just about clothes, it's about a feeling that people get to see who you are actually inside just by showing it on outside."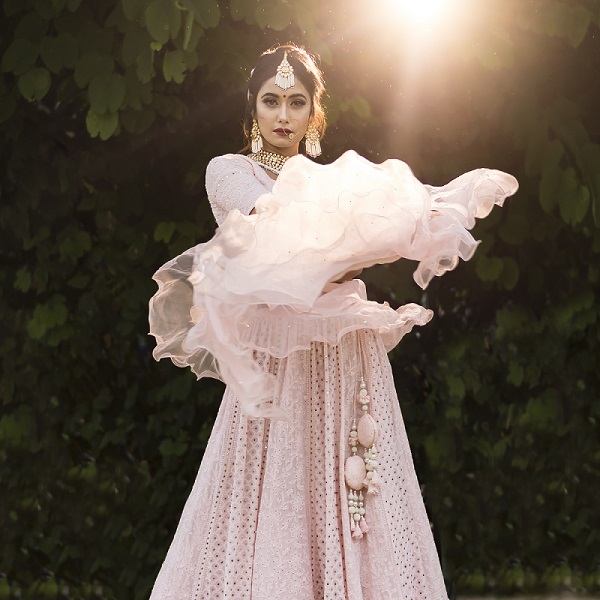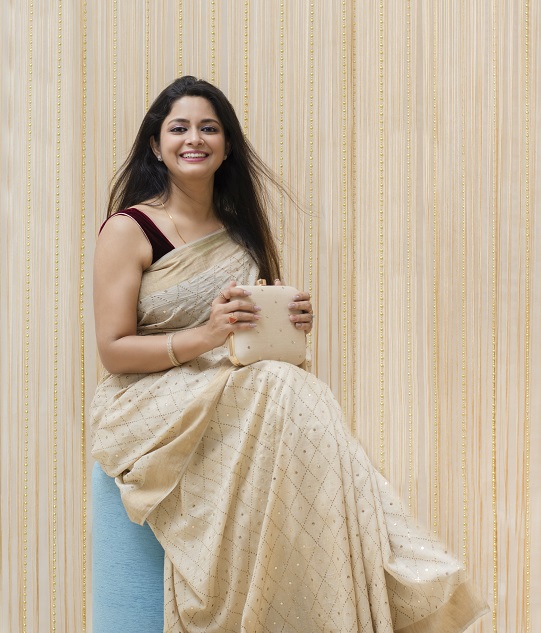 About Neha
Neha Asthana Meena is a 33-year-old female entrepreneur who manages her personal and professional life with sheer excellence, pride, and poise.
Neha hails from the City of Nawabs. She completed her schooling from Loreto Convent, Lucknow. She did her Bachelor's in Speech-Language Pathology & Audiology from All India Institute of Speech & Hearing, Mysore. After which she went to Pune to pursue her MBA degree from Symbiosis.
By passion, she is a fashion designer at the Aagaman Couture in Jaipur, and by destiny, she is the co-owner and business partner of a 6-year old fine-dining restaurant called 'Aagman Indian Restaurant'  in Georgetown, Guyana, South America. In a limited time her restaurant became one of the highly critically acclaimed fine dining restaurant in Caribbean.
Neha is a caring wife to a supportive husband and a loving mother to two sons. Living with her in-laws, she believes that women are highly capable of juggling marital responsibilities with big corporate dreams.
She was settled with her family in South America when she had to return to India for the birth of her second son. After complicated birthing, she was advised to stay back in India and rest.
Neha's undying passion for fashion and the fire for creativity within led her to launch her own couture unit in 2018 by the name 'Aagaman Couture' that specializes in Lucknowi Chikankari.
What makes clients fall in love with Neha's personality are her exceptional communication skills. She really knows her way around making them feel welcomed, comfortable and valued.
ABOUT US     
Aagaman Couture is identified by their diverse collection of wedding and trousseau wear. Our carefully curated merchandise is surely bound to bring the loyal and discerning customer back, time and time again.
The loyal, discerning customer is assured, thanks to the curation of merchandise by the talented Aagaman Couture team, that they will almost certainly find the most beautiful designs and ensembles here.
Conceptualized and nurtured by Mrs.Neha Asthana Meena, the grass-root success of this most beautiful store lies in the able hands of the experienced store managers who effortlessly absorb the sensibility of their customers and guide them through a gentle and well empowered personalized selection process.