Featured Products
There are no products matching the selection.

CHIKANKARI SAREE
Elegantly fuses ancestral jaipuri handwork with modern flares. Drenched in a gorgeous shade, these beautiful sarees are laden with shimmery chikankari and mukaish work. These sarees are finished off with silk threadwork that makes it worthy for all your special occasions.

Wedding Regalia Series
Bridal wear are made with exquisite handwork of Jaipuri gotapatti flowers that exude an ethnic Jaipuri touch along with shimmery golden cut dana jaal.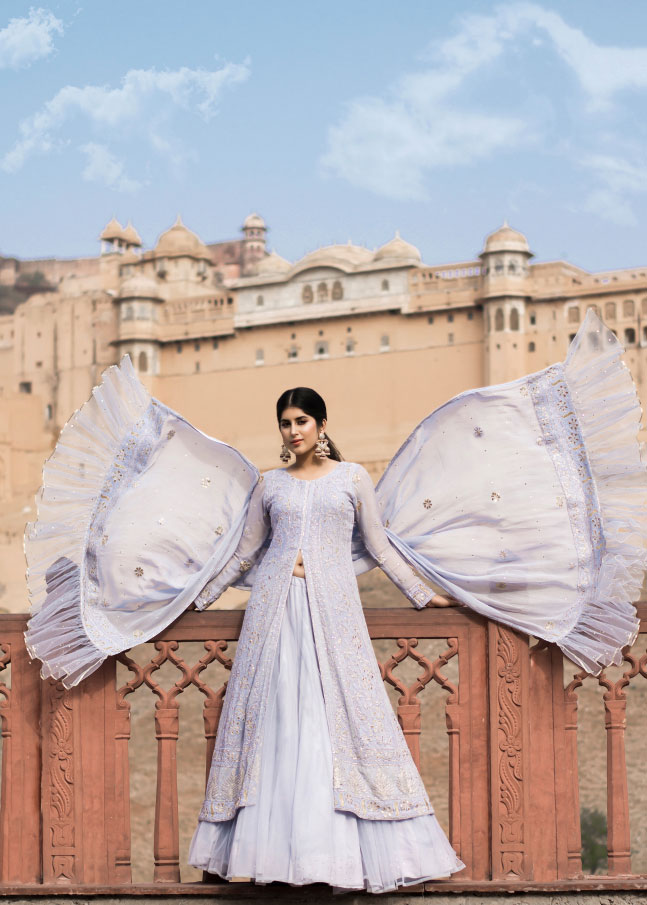 Mystic charm
Inspired by old-world, ethnic charm, this anarkali with bright gold sequence work has been exclusively designed for a courtly, royal occasion. Making you feel like a regal princess the moment you slip it on, the anarkali is stitched with a front slit in a soft georgette and enriched with delicate chikankari and mukaish work.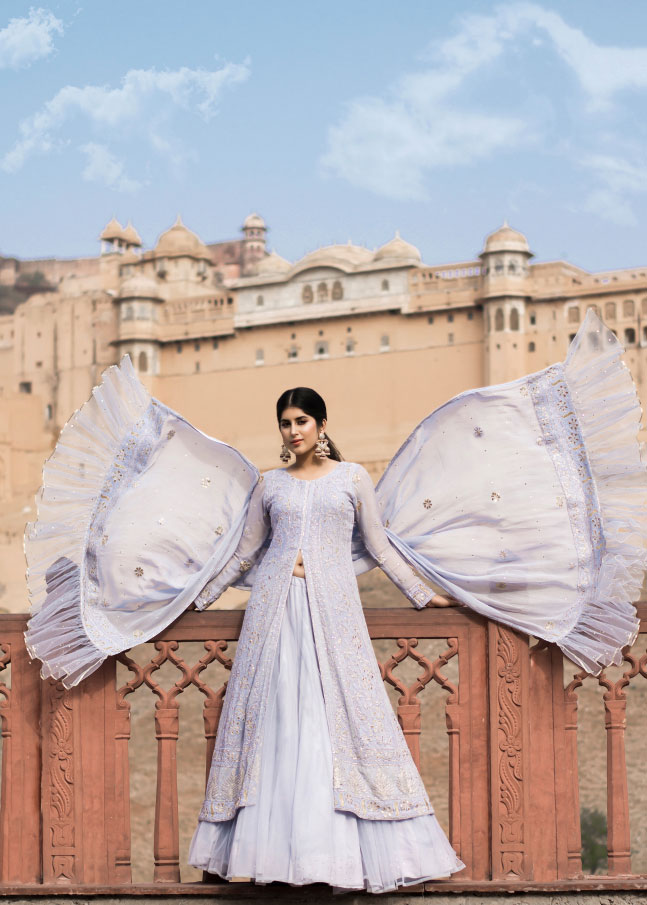 Wistful Colors of paradise
One of the finest pieces in our bridal series collection, here's an original Mukaish kurta and sharara. Symbolic of the youthful and alluring glamour of a new bride, the kurta in flowy georgette is beautifully embroidered and bedecked with a bold gold work at the bottom. ruffled sharara adds a touch of feminine elegance.
Aagaman Couture' is a love letter drafted with passion for Old Lucknow by the acclaimed fashion couturier, Neha Asthana Meena. The brand seeks inspiration from one of the 400 years old embroidery techniques in India - Lucknowi Chikankari, which can be traced back to the pomp and splendour of Mughal fashion The Jaipur-based couture unit was launched in 2018 and has since then made its way into the hearts of the fashion enthusiasts residing there. From gorgeous lehengas, sarees, simple salwar kameez and western outfits - this couture collection showcases all your favourite traditional & modern ensembles.
This brand focuses on becoming inclusive of ethnic and modern designs along with techniques found across India. The brand is already seen using the exquisite handwork from other regions and embellishing it over the elegant fabrics sourced from Old Lucknow.
@ FOLLOW US ON INSTAGRAM
Can not get Instagram data or your instagram account have not any images.